Sleepy sex. 
     For busy couples, the balance between work, sleep and sex is an ongoing issue. The most common time people get it on is at night right before we go to sleep, or in the morning just as we wake. 
Sleepy sex
     The quality of sex before we sleep is probably not as satisfying as it would be if we devoted time to enjoying sex as we do our free time for Netflix and chill. Sex should not be hurried up or rushed because one person is tired, or in a bid to get it done so you can get to sleep.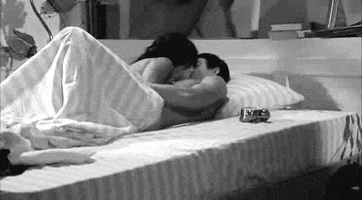 Then there's morning sex. 
     When you wake up you usually have to start your routine and rush out the door. Finding the "moment" can be difficult or cause more stressors during the day as it pushes your schedule back. Even if you are a morning person, switching your exercise routine for sex can be a privilege yes - but only if there is enough time to enjoy it without having to rush through your morning. Morning sex is a privilege for mornings spent in the sheets, not a quick rush before getting up for work. If rushed or sleepy sex is your problem I have 5 tips to get you in a better routine. 
5 ways to avoid rushed or sleepy sex
Have sex at a different time of the day. Devote a set time during the middle of the day or whenever suits your schedule and preference best. Make sure you stick to this schedule as if it is an appointment you won't get a refund for. Ensure this is scheduled at the very least 1-2 times a week. 

Have sleep nights. Ensure no one feels bad for rejecting the other if you feel that mood coming on asking politely if your partner is tired or if they want to play before you both shower for bed. Figure out which days you are both the most tired on and designate these days as a sleep night. A few nights of solid sleep can do wonders for your relationship and sex life. 

Sex on the weekends. This can go a few ways: only having sex on the weekends to get more enjoyment out of it or additionally making sure to enjoy having sex on the weekends. Whatever works for you, the weekends are a great time to rekindle that spark with long lovemaking sessions. Try out Tantric Massage, Nuru Massage or Sensate Focus with your partner.  

Don't leave sex until just before bed. Say you do want to get it on at night. Make sure to do it before brushing your teeth, showers and most importantly unwinding sleep activities begin. If you notice you are pushing sex into the schedule frequently, ask yourself - do i really want to be rushing sex all the time? 

Set your alarm for earlier in the morning. So you want to have morning sex, just make sure you take the time for it. Set your alarm at least an extra 15 minutes earlier than usual. In the end, share a shower to start the day together.
     There is no right or wrong when it comes to intimacy and when is the right time. If you are struggling in the bedroom, feeling a loss of intimacy, or find yourself rushing sex to ensure it's over and done with you should implement one of these rules.
Happy loving,
Lexi, XX
Tags: relationships, health